Curzon Aerials.

Curzon Aerials have a wide range of products & services to meet the needs of customers.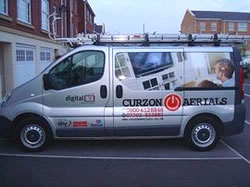 As a well established company in the Aerial and satellite industry, get ready for the digital switch over with us.
What is the Digital Switchover?
The UK is switching to Digital TV, bringing with it extra standard TV channels, new subscription channels and improved viewing quality.
The Digital Switchover begins in 2008 and ends in 2012. Over this period all TV services in the UK will switch from analogue to digital, region by region. The old analogue signal will then be switched off and any television or video recorder which is not converted to digital will no longer be able to receive TV programmes.
One of the main reasons for the Digital Switchover is so that more people can get Freeview (TV through their aerial) and it is only by switching off the old analogue signal that power for the digital signal can be increased.
What Equipment will I need?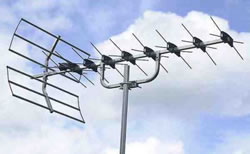 In order to be ready for the Digital Switchover you must have the correct equipment to enable you to receive the new digital signal. You do not need to replace your existing television set to receive digital terrestrial TV (Freeview) but you will need a set top box and a digital aerial.
You will also need to ensure that every TV set in your home is able to receive the new digital services. See Multi-room for more information.
Curzon Aerials can provide you with both a set top box and a fully installed digital aerial.
Simply call 07702833882 or 0161 657 2360 for a free quote and advice on the Digital Switchover.
The Switchover Help Scheme can help you make the switch to digital TV.
We can help you convert your TV to digital if you:
are aged 75 or over, or
get or could get Disability Living Allowance, Attendance Allowance, Constant Attendance Allowance or mobility supplement; or
have lived in a care home for six months or more, or
are registered blind or partially sighted