What can Curzon Aerials do for you?
Curzon Aerials have a wide range of products .
Digital Aerials & Installation
Multipoints
Sky Dishes & Sky Installation
Re-tunes
IRS Systems
Phone Extenstions
Freesat Installations
Tv's Wall mounted
Network and Broadband setup service
Bird spikes
CCTV
Ajax Alarm Systems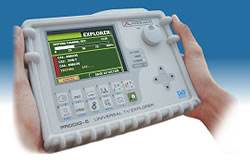 Digital reception has to have a measured signal of between 45-70db if your signals are above or below these parameters then Freeview will break-up, this means if you are in a good reception area then you can very easily overload your Freeview box with signal, it is important that your signals are measured with correct meters. We use the Promax digital explorer to ensure you have trouble free viewing.
Here at Curzon Aerials we only supply and install Benchmarked Aerials for Digital reception fitted on heavy duty lashing brackets for chimneys or drilled to your wall with heavy duty brackets.